How To Zig When Your Bohemian Bedroom Décor Zags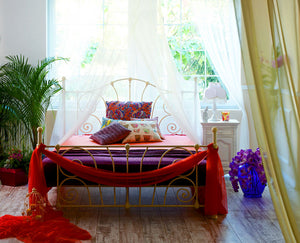 You know those gorgeous bohemian-style bedrooms you see in the home décor magazines? You know... They're the ones that look carelessly strewn together, but somehow manage to look suspiciously immaculate at the same time.
As you might have imagined, they're anything but carelessly put together. These studio-shot bedrooms, in fact, take days (if not weeks to set up). Everything from lighting and detailing down to every last crease in the sheets is intentional. Basically, it's a standard most of us can't live up to without a significant bankroll and a professional interior decorator at our disposal.   But don't despair. If you've tried (unsuccessfully) to recreate your bedding based on last month's center spread in Better Homes & Gardens, you might want to try again. But this time, follow these key steps:
Authentic Boho Style Can't Be Achieved With A Bed-In-A-Bag
It's a common mistake. And it goes something like this… You're paging through a brochure or website and see a mixed bedding arrangement that's simply to die. And it's not only on sale, it comes fully packaged with all the bells and whistles: shams, throw pillows, blankets, duvet, sheets – the works. Fast forward to the day the package arrives and you start enthusiastically arranging  your new bedding.  Only it looks nothing like you hoped for. Instead, it looks and feels undeniably like what it is: bedding bought from a big-box retailer.
Our Advice:  Avoid the big-box brands and take your time. Purchase your bedding and bedroom aesthetics one accessory at a time.
Authentic Bedding Starts With Your Own Creativity
Achieving just the right look for your boho bedding isn't as complicated as it seems. What it boils down to is your thoughtful consideration of your own personality and what specifically about your personality you want to personify. How about sexy? Or funny? Artistic? Or passionate? You decide. We'll help you pick the right colors.
Pick The Right Colors And Patterns
Whether your bedroom's personality is light, airy and pastely or passionate, fiery and red – choosing the right colors without clashing is important. But so is not being overly "matchy". To find just the right balance, it's all about choosing a main color palette theme. Establish your primary and accent colors right away and build on it without straying from the theme's colors. And as you choose patterns, make sure that they fit loosely within your color story. Our advice: If you want to get funky with lots of overlapping patterns, make sure the patterns are neutral and within the spectrum of your primary color. Otherwise, you're likely to end up with a hot mess.
Don't Limit Yourself To Decorating Just The Bed
When it comes to creating a memorable bedroom atmosphere, think beyond just the sheets, shams pillows and duvet. Hang fabric to create the feel of a canopy. Ask yourself if vintage-style hard wood furniture would compliment your bedroom design more than contemporary furniture. Depending on your design, you might also consider a decorative bedside rug or some wall art to tie it all together. 
It Takes Time...
To achieve a bedroom look that's truly authentic, it takes time. Be confident in your personal style. Take chances. Try things out. Then rearrange them until you get it right. Now matter how you decide to experiment, you'll undoubtedly be happier than you otherwise would with a bed-in-a-bag.