How To Give Your Apartment Some Boho Swag On The Cheap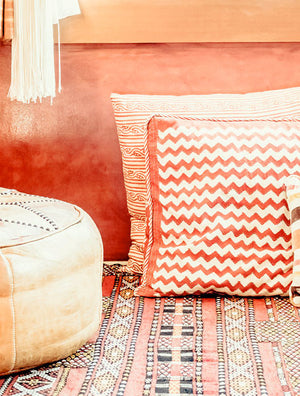 La Vié Bohéme. The Bohemian Life is more than a mere fad. It's a lifestyle. And while high-end fashion designers have been crushing hard on the popular Bohemian style - putting it on the international fashion map via catwalk runways - it still remains one of those styles that never really resurfaced, revived or even reinvented itself. That's because it never went out of style in the first place.
Boho-Chic, Haute-Boho, Boho-Modern, Boho Post-Modern
Or whatever fashionistas are calling it - it still is what it always was: A lifestyle. And when it comes to Boho home décor, you shouldn't have to spend a fortune. After all, it kinda defeats the purpose of the style's heritage, no?
Boho Throw Pillows
If you want to enhance the Bohemian aesthetic in your home - throw pillows are the way to go. Not only are they cheap, but no boho-infused abode quite captures the aesthetic without them.
Design suggestion: Interior designers may object to mismatching. But we suggest breaking the forbidden rule. Instead, be true to the Bohemian style. Hodgepodge and mismatch colors and patterns at will.
Boho Duvet Covers
If you're on the hunt for a new duvet cover, there's no shortage of boho bedding out there. But finding one that's got an authentic look and feel VS something that looks like it was purchased at Target® gets a bit more challenging – especially if you're on a budget.

Our suggestion: When it comes to designing your boho-infused bedroom, don't skimp on the duvet. It's the centerpiece of your room's design. It ties everything together - trust us. Ideally, if you're revamping your room from scratch, we recommend choosing the duvet first, painting second, and then adding the décor last. Until next time, au revoi.