Summer Blues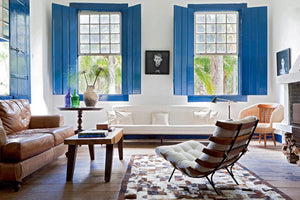 The dog days of summer are here once again. Outings at the beach, festivals, ice cream cones and lazy days in the sunshine all come to mind. But so do the summer blues. And we're not talking about the depressing kind. We're talking about interior design colors for summer and how to pair them correctly.  Done right, and you can bring out the the airy, carefree elements of summer with just a few simple tips and tricks.
Sail Away To The Greek Isles (metaphorically speaking)
Blue is an intoxicating color when used appropriately. And it's very easy to overdo it with this color. That's why we recommend using true, bold indigo colors as home accents and trims rather than as a base color. Take this home in São Luiz, Brasil - featured in Architectural Digest.
A Little Accent Goes A Long Way
To get a better idea of what we're talking about, check out this ultra chic living room shown to the left. It's the perfect example of how a little blue trim combined with some subtle, but tastefully selected decor can go a long way to bring out the liveliness in your room.