6 STEPS TO A DIY TUB RESTORATION FOR UNDER $100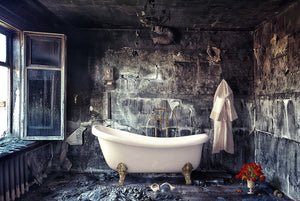 Bathrooms are special places and deserve to be treated as such. From Victorian powder room and vintage deco themes to more contemporary designs – your bathroom makeover has endless theme options to choose from. The difficulty is sprucing up the old to fit the new and of course finding the right décor.

After moving into my new home, I was thrilled about the master bathroom's clawfoot tub. Exuding its vintage Victorian Era style, attractive curves and antique charm – I had always dreamed of owning one. But there was just one problem. It was revolting.

The tub itself was caked with decades of grime and mildew coating the white porcelain. It looked like a twice baked spinach quiche complete with milky, egg-beaten yellow sides and topped with flecks of blackish-green mildew crust. Thankfully, I stumbled upon an excellent tub DIY read by Sacramento Street.
Salvaging A Clawfoot Bathtub In 6 Easy Steps
To junk the tub or not to junk the tub? The thought stuck with me for a few hours, and then eureka! After just buying a new house, I hardly had enough reserves to subsidize a remodel. So, I devised a solution for a DIY tub restoration. Here's how:
1. Shopping list – Head to your local general store and/or hardware and purchase:
Plenty of scrub brushes

1 Pack of fine grit sand paper

1 Paint brush

1 paint roller and paint tray

1 plastic or cloth drop cloth

6 bottles of Hydrogen Peroxide 1 box of baking soda (or cream of tartar)
2. Paint & Primer – Now head to your local paint store or Home Depot and purchase: BEHR Marquee Stain Blocking Primer BEHR Marquee Stain Blocking Paint
3. Clean The Tub – To remove the stains and caked-on film and mildew, make a paste of one part hydrogen peroxide to two parts baking soda (or cream of tartar). Rub the paste on the stain and let stand for 30 minutes to one hour, then wipe and rinse. Repeat as necessary.
4. Sand The Tub – Traditionally, clawfoot tubs were often painted. This is why the outer porcelain of most were only partially sanded and left rough. So, after you've thoroughly cleaned and let your tub dry, get your fine grit sandpaper and gently scuff the outside of the tub.
5. Prime The Tub – After you've gently sanded the outside of the tub and vacuumed the dust, it's time to apply the BEHR Marquee Stain Blocking Primer using your paint tray, rollers, brush and drop cloth. Follow BEHR's instructions for proper primer dry times.
6. Paint The Tub – After the primer has adequately dried, it's time to add your first coat of BEHR Marquee Stain Blocking Paint. Let the first coat dry and reapply additional coats as necessary.
Room Notes – Adding Bohemian Bathroom Decor
Based on the color you painted your tub and the overall color them you're going for – you'll want to shop around for just the right accents. In my case, I was going for a Vintage Moroccan look that complimented the Atlantic Sea Foam body color of the  tub.